If you have enjoyed playing the PC version of The Curse Of Ra and would like to play more levels, we have 7 mission packs for you:



· Ra's Revenge (MP 1)




· Ra's Empire (Mission Pack 2)

· Ra's Vegas (Mission Pack 3)

· Roman Invasion (MP 4)

· Greek Odyssey (MP 5)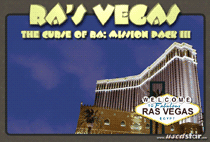 · Curse Of Ra - Junior Edition


Did you find The Curse Of Ra levels too hard? This mission pack contains 50 easy and fun-to-play levels.



· Curse Of Ra - Expert Edition





Did you find The Curse Of Ra levels too easy? This mission pack contains 50 tough levels to challenge your mind.




Each mission pack is an add-on to The Curse Of Ra featuring 50 brand new levels. Play the dynasties IX to XLVIII of these sequels to The Curse Of Ra.

The full version of each mission pack can be ordered for only $9.95 or €9.95.




All mission packs are already included in the same download and setup as The Curse Of Ra.





You just need to enter the additional registration keys in your existing The Curse of Ra game to unlock them.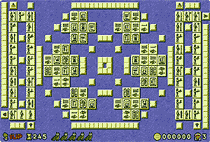 If you have the full registered version of The Curse of Ra, you can try the first few levels of each mission pack for free.



When you start the game, you will be presented with a new window which allows you to select the different Mission Packs: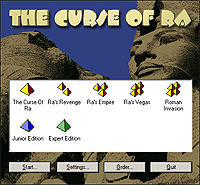 If you no longer have your Registration Key for The Curse Of Ra, or own RahJongg, and still want to try out the mission packs, press down the CTRL key on your keyboard while you start the game.