The Curse of Ra puts a new spin on the classic Mahjongg game. It introduces new elements such as bombs, magnets and walls, and uses the one-layer two-angles arcade rules.

Work your way through 50 cleverly designed levels with increasing difficulty which will challenge both your mind and logic. You can play either in single or various multiplayer modes.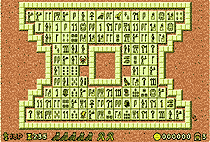 The PC Windows version contains a level editor allows you to create your own levels. Pass them on and challenge your friends.




For PC Windows, the Curse of Ra comes as a free demo version allowing you to play the first 12 levels for free.



You can order the full version featuring all 50 levels and the level editor for only $9.95 or € 9.95.

Place your order online, by phone, fax or mail.







The Curse of Ra is available for iPad.